DECEMBER 18, 2021 – Yesterday I published the last blog detailing what we did in Portugal every day. However, I still have a list of topics – odds and ends – of different things I noticed or learned while in Portugal, that I want to share. So here goes – random subjects not related to each other at all, except they all were observed in Portugal.
Sardine Stores
Sardines are a big thing in Portugal. There are stores that sell only sardine cans. To attract customers, they have amazing colorful displays of different varieties of sardines. Sardines also appear in all the gift shops – as stuffed animals, on key rings, as serving platters, as wall décor, as patterns on aprons, etc. On the supermarket shelves, canned sardines take up a whole section and are available in many different flavors such as with tomato sauce, chili sauce, with lemon, in olive oil, etc. Where there were once hundreds of small sardine canneries, today there are 14 larger companies that can the fish. They still use the traditional methods of doing everything by hand. The canning process is started on the same day the fish are caught to ensure freshness.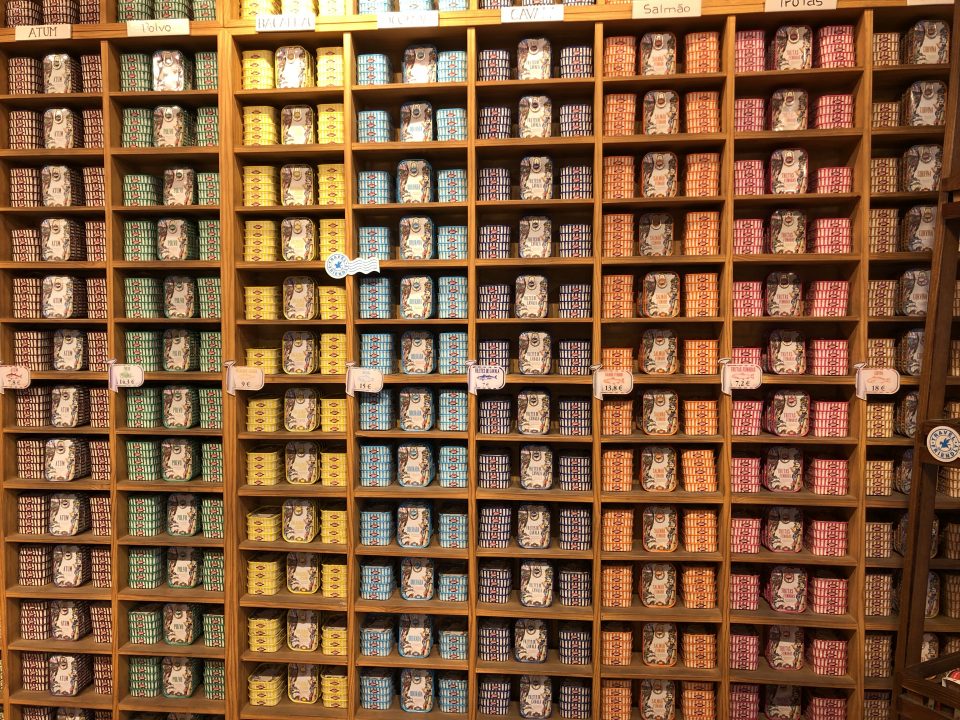 Ceramic Swallows
In many of the apartments we stayed in, and in many souvenir shops, there were ceramic birds hanging on the walls. They would have the same basic form but appear in different colors, shapes and sizes. I eventually learned that these birds are ceramic swallows. Swallows return every year to nest in the same place, and these birds have come to represent FAMILY and HOME. Swallows also have a single mate throughout their lives, so some say they also represent FAITHFULLNESS.
Others go so far as to say that the ceramic swallows also serve as protective charms and compare them to a Jewish mezuzah. They point out that the Portuguese people have dispersed all over the world, and the swallow also represents having a nest in Portugal to return to.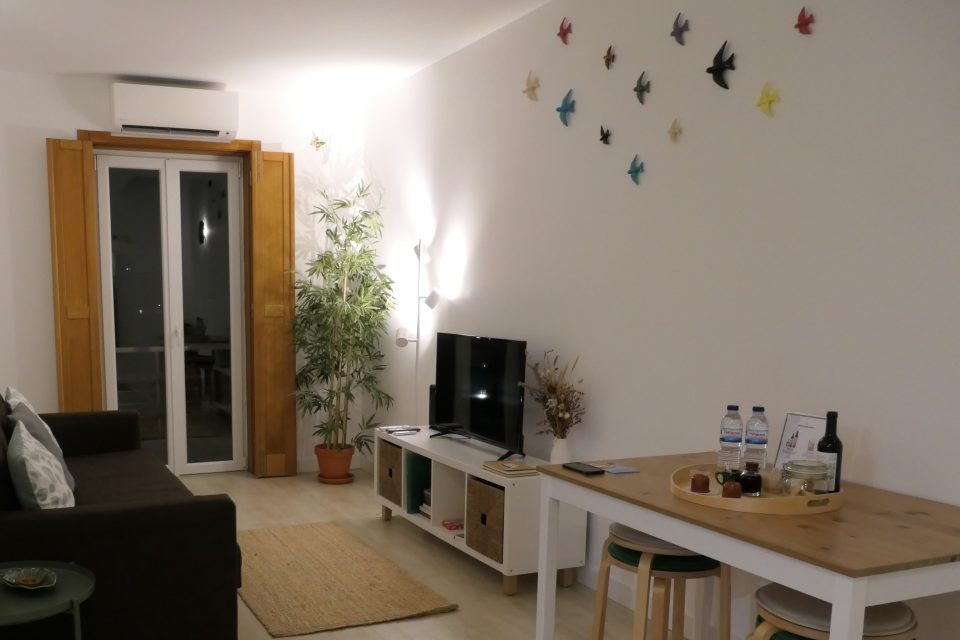 Recycling Garbage
Recycling garbage was available throughout Portugal. In some cities, the recycling containers are everywhere, and in other places, they existed but are not so prevalent. Different colors symbolize the different types of recycled materials – yellow for plastics and metals, blue for paper and cardboard and green for glass. Usually the containers to collect recyclables are underground, with an above ground drop-off recepticle. A truck comes and lifts the concrete above the containers, and then spills its contents into the truck. In the big cities, whenever we ordered take out food, it came only in recycled containers in paper bags. The silverware given with it was always from bamboo. While my impression was that recycling is strong here, Portugal, where 28% if waste is recycled, lacks behind most countries in Europe, where the average is 46%.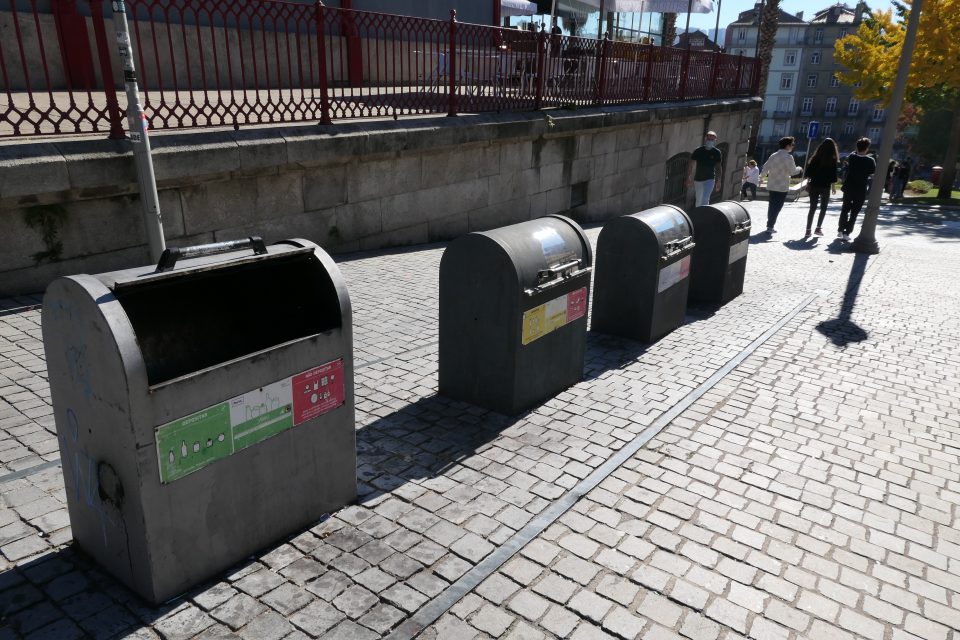 Stray Dogs
Throughout Portugal, whether in the big cities, small villages, or just driving along a road, there were many stray dogs. They sometimes traveled in packs, and sometimes all alone. Dogs that had no collar and seemed hungry and neglected. Apparently, the kennels are overbooked and cannot collect all the strays. Heartbreaking.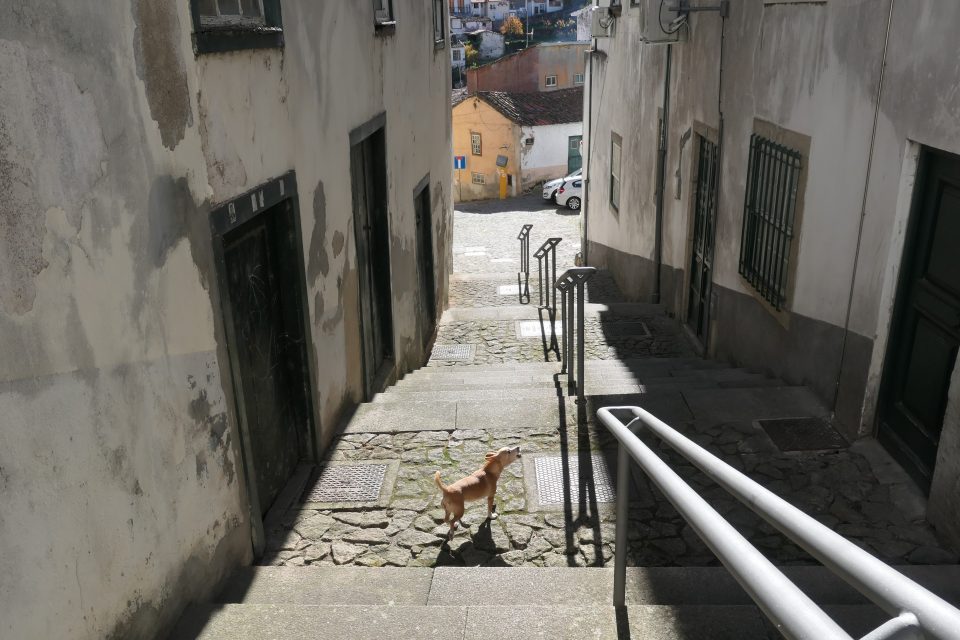 Highways
Portugal has a very good road system throughout the country. There are major highways (toll roads) that run both north and south, and east and west. Payment for the tolls is at tollbooths, where you can either pay or drive through with automatic payments. Prices are per segment of highway driven. Amounts due ranged from less than a euro to over 4 euros, depending on the location and length of segment. We had automatic payments as part of our car hire, and are waiting to receive the bill, which we expect to be about 100 euros for our month in Portugal. Speed limit for most of the motorways was 120 kph. The main difference we found with the highways compared to the highways in Israel or the USA, is that the exit ramps in Portugal were very short. The exit lane would always begin just a few meters before the exit ramp. It did not feel as safe as having plenty of time to slow down in an long exit lane.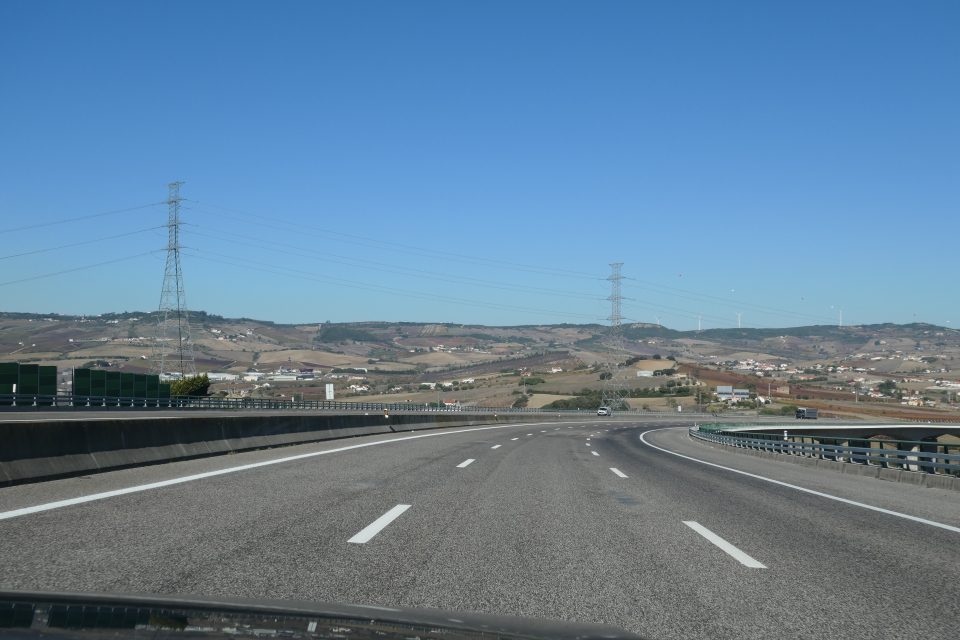 Internet
Compared to what we have in Israel, the internet in Portugal was fantastic. Even in the most remote locations, we had good internet connections, often via fiber. Portugal is one of the few countries in Europe with almost full internet coverage inside its borders. The internet was generally very fast and stable. Even in the middle of old medieval villages, there would be signs advertising fast internet connections. Mark would measure the speed of the internet at the various apartments we stayed in. It was often 200 – 300 Mbps and once even reached greater than 500 Mbps. At home we have 20 Mbps. Uploading photos for my blog, which takes a long time at home, was very fast.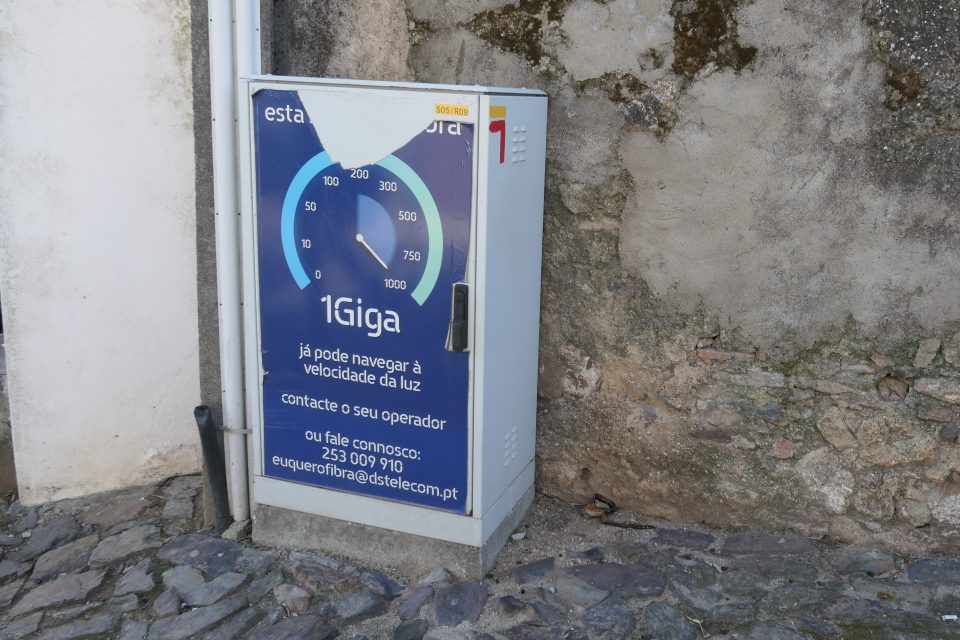 Tiled Houses
Throughout Portugal, you can see houses covered in tiles, rather than painted. These tiles usually have geometric patterns. Some are obviously very old, and other seem to have been recently applied. A very wide spectrum of colors and patterns can be seen.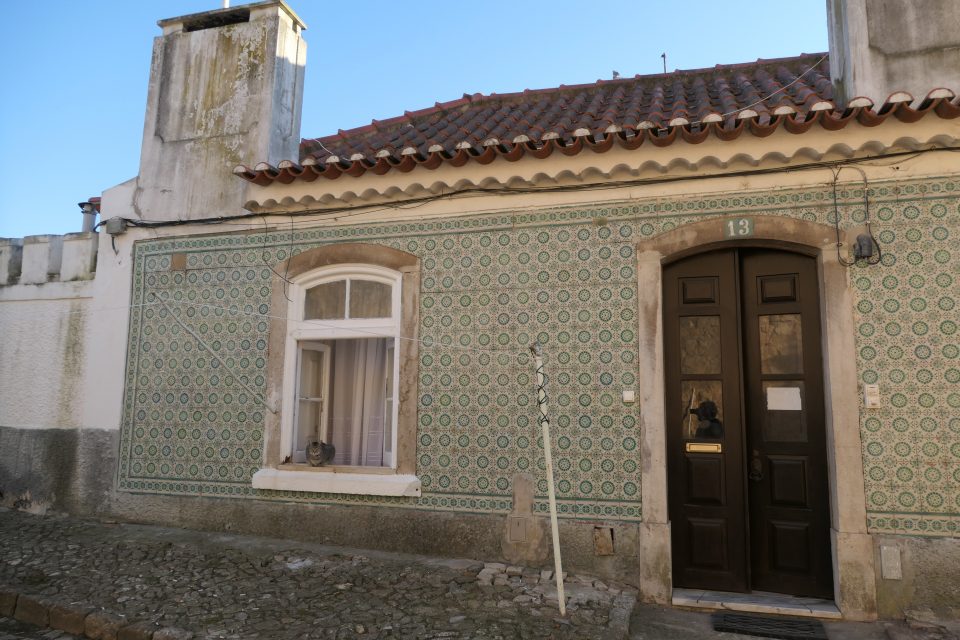 Bola de Berlim
During the first day of sightseeing in Lisbon, I wrote about Pastéis de Belém, a bakery we visited where I had a Pasteis de Nate. What I did not write, is that I really had two pastries that day – a Pasteis de Nate and a Bola de Berlim. In the blog for that day, I included the Pasteis de Nate, because this is more of a typical Portuguese pastry that can be found all over the country. The plan was when we return to Lisbon at the end of the trip, to have a Bola de Berlim again, and then include it in the blog. However, we visited five different pastry shops when we returned to Lisbon, and none had the Bola de Berlim. They are obviously not as popular as the Pasteis de Nate. The reason I wanted to include this pastry is because of its Jewish connection. Bola de Berlim are made from a recipe that the German Jews brought with them to Portugal when they took refuge there during WWII. It is basically like a large jelly doughnut, sprinkled with powdered sugar, but instead of jelly they are filled with an egg-based cream. The Bola de Berlim from Pastéis de Belém that I had at the beginning of the trip was very delicious, and I liked it even more than the Pasteis de Nate.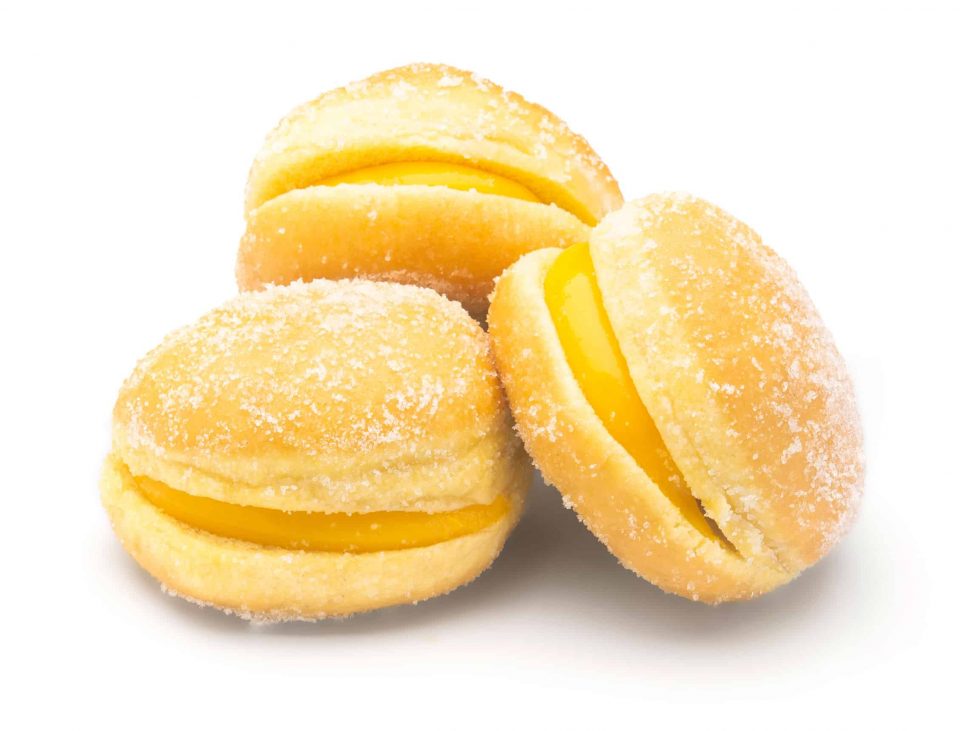 Interesting Storefronts
One reason that I love wandering the streets of the cities in Europe is the interesting storefronts. Portugal was no exception. Many of the stores offered unique items, not just the chain store wares found everywhere. Often you would see very modern items displayed in store windows in very old buildings. Some subjects were more risqué than you would find elsewhere.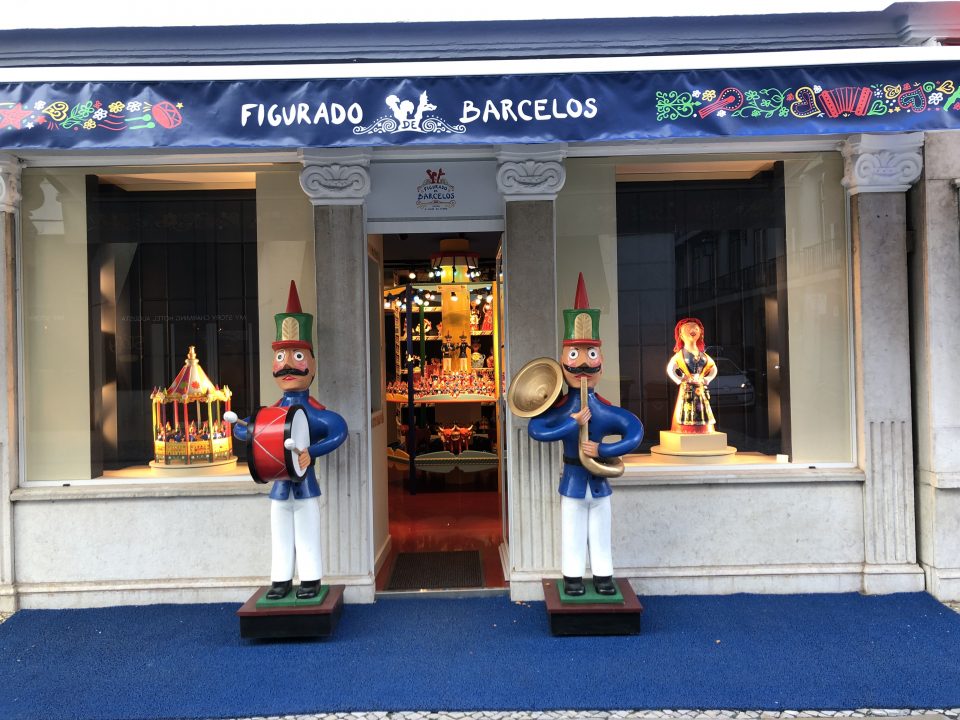 Novels Set in Portugal
When I travel somewhere, I like to read books that take place in that country. There is a very good website, taleaway.com, that lists books based on their location. In the list for Portugal, many of the books were authored by José Saramago. Turns out, José de Sousa Saramago is a Portuguese author, that in 1998 received the Nobel Prize for literature. We found references to him in many places throughout Portugal. I have put some of his books on my TO READ list.
One book on the Portugal list that I did read before this trip, was The Last Kabbalist of Lisbon by Richard Zimmler. I had read it many years ago in my book club, and found it just as enjoyable the second time around. It is a murder mystery that takes place during the Lisbon massacre of the Jews in 1506. Recommended.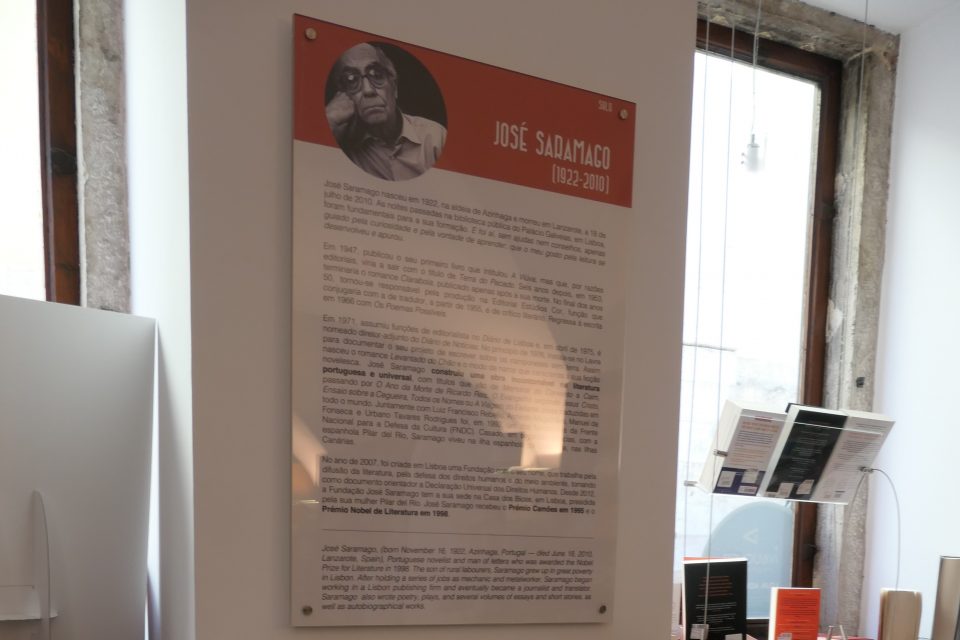 Aqueducts
We saw many aqueducts in Portugal. Some were large and remarkable and already mentioned in previous blogs. Other towns had smaller aqueducts that did not get a special mention. All in all, there are 42 aqueducts scattered throughout Portugal. There is a Water Museum in Lisbon dedicated to raise awareness of the aqueduct as a monument. I put it on my list for next time.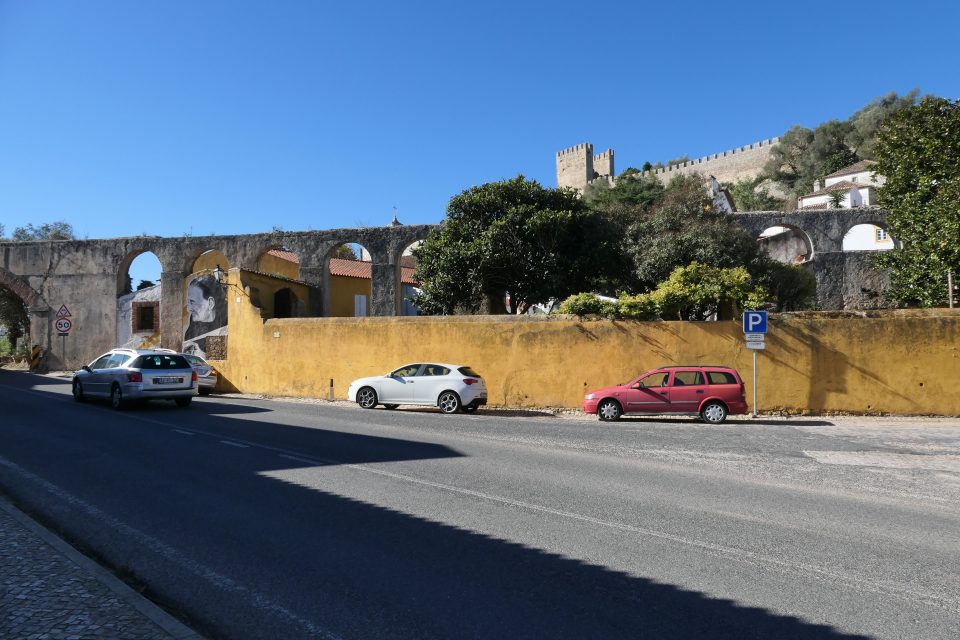 Traveling in November
In Portugal in November, the days are short. By 18:00 it was already dark outside. We would try to be checked-in to our apartment by then. While this might seem to be a disadvantage, we took it as an opportunity to unwind from the hectic running around and to work on our computers in the evenings. Mark was able to put in some hours for his job at Verifone and I was able to work on my blogs. If the days had been longer and we continued our sightseeing, this would not have been possible.
Although November can be rainy and cold, we were lucky with the weather. Except for a few hours of rain here and there, we had beautiful warm and sunny days.
Another advantage of travelling in November, was seeing the spectacular fall colors. Throughout the country, trees were turning red, yellow and orange and putting on a spectacular show. In the vineyards, the leaves were still on the vines and had changed into autumn colors which created a patchwork quilt of different hues on the landscape.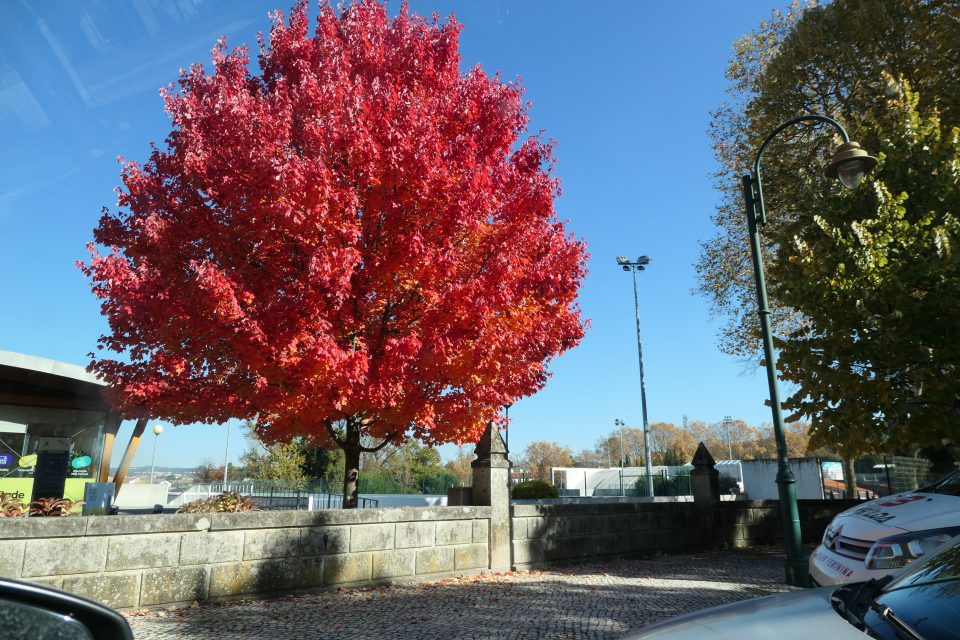 So with this blog, I say good-bye to writing about Portugal. Now going to start planning our next trip.