MARCH 9, 2021 : For this week's outing, we decided to go up north. Our daughter Michal then called to say that she would like to join us but needs to be back by 4:00 to pick up her kids. We changed our plans to drive less and hike in the Jerusalem area. Then Lavi, our grandson called to say he would like to join us (another day without school) but he needs to be home by 3:00 for a meeting for next year's new school. So, to make sure we get him home on time, we decided to stay in the area – very close to home. Many years ago, Mark did a walk with our son Ari along the Yarkon river and walking along the Yarkon became the new plan.
We picked up Lavi and waited for Michal at the gas station in Neve Yarak, a small agricultural settlement between Hod Hasharon and Petach Tikva. While there, Tamar called to say Erez, Lavi's five-year-old younger brother, just returned from his few hours in daycare and very much wants to join us. We were only a 10-minute car ride from their house (we really stayed close to home) so we waited for Tamar to bring Erez, left the cars at the gas station and took off.
The first part of the hike was walking along a dirt road among the fields, following a red trail marker. Nothing remarkable, except that at one point a huge white crane flew near us. Amazing and beautiful.
After 20 minutes of walking, we reached the Yarkon river and the shady path along the water. Now the hike got much nicer. The walk along the river is part of the Israel National Trail – Shvil Israel. The path was often tunnels made of the reeds that line the riverbank – nice and shady for a hot day. As you walk through the reeds, they occasionally open up and gave you a glimpse of the river.
Since we were pressed for time, we planned that we would hike another hour, take a lunch break, and hike back. The kids however, had their own ideas – the moment we reached the shade, they said they were hungry and would like to stop for a snack. We found a large rock to sit on, and soon discovered that Lavi forgot his backpack with his food and water in the car. No problem. We always bring enough snacks and water for everyone anyways – and he would be perfectly happy to have pretzels and potato chips for lunch.
After about another 50 minutes of walking, we reached a bridge. Over this bridge runs route 40, the main road connecting Petach Tikva and Hod Hasharon. The walking path follows the river under the bridge. Unfortunately, the area under the bridge, because it does not get any sun, was a big puddle of deep mud. If you took a step, you would sink down into the mud and your shoes got covered in it. Then you needed to pull hard to get your shoes out of the mud. There did not seem to be any way around it, so we decided not to continue along the path any further. It was almost time to turn around anyways.
Right before the bridge, we had seen a particularly nice spot – a small waterfall. That was a good place to stop and have lunch. Lavi ate Michal's sandwich, Michal ate one of Mark's sandwiches and everyone was happy.
We returned along the same path we came, back to the gas station.
We had walked over six kilometers – all flat and easy. Then came ice cream, of course, and we managed to return everyone home in time.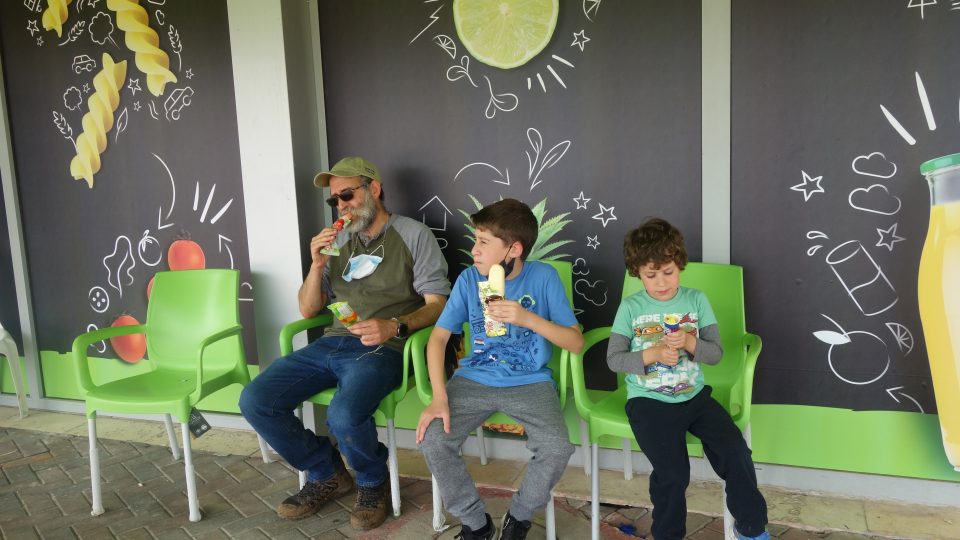 Bye bye nice place.