AUGUST 25, 2020 : This week my kids (and almost everyone else in Israel) rented cottages up north for their summer vacation. For this week's trip, we decided to join them on Tuesday, and do whatever they were doing that day. They had made plans to visit the Hula Valley on Tuesday. I was not enthused. It was going to be a hot August day, and if I remembered correctly, there was not much shade in the Hula Valley – you are basically walking around the open landscape of the valley in the sun. I had already decided that this blog post would be called Hot in the Hula. Additionally, when we first tried to reserve entrance tickets, the place was sold out. Only when there were cancellations, were we able to get tickets. So not only hot, but also crowded. In addition, this area is known for its birds. The Hula Valley is a major stopover for birds migrating between Africa, Europe, and Asia. It is the best place to do bird spotting in Israel, but August is not bird season. I was wishing my kids had made other plans.
But occasionally, as it sometimes happens, the kids know best. We had a wonderful time there.
Traffic to go up north was very heavy. Waze kept finding us better routes to cut time off the ride, but there was no escaping the jams. At one point, on Route 6 – the fast highway in Israel with a speed limit of 120 kph – we needed to travel 12 kilometers. It should have taken six minutes, it took 40. All of Israel was traveling to the north.
We finally arrived close to one in the afternoon. The temperature was 35 degrees Celsius (95 Fahrenheit). I had been to the Hula several times before, but everything looked different. This was not the place I remembered. Turns out, there are two different options for visiting the Hula Valley. One is called Agamon Hula, which belongs to the Keren Kayemet and the Jewish National Fund, and the other is the Hula Nature Reserve, which belongs to the Israel Parks and Nature Authority. Sort of like one city with two shuls. In the past, I had visited Agamon Hula, where there is a paved path among the wetlands and you rent bicycles to do the circuit. Today, we were in the Hula Nature Reserve, a few kilometers south of Agamon Hula, and a place I had never visited before.
Although the temperature was high, we found a shady picnic site, and enjoyed lunch while waiting for our kids to arrive. In the shade, we did not feel the heat. So far, everything was pleasant. Once all the kids arrived, and they finished their lunch, we were off.
Basically, the Hula Nature Reserve is a loop walk through the wetlands. Although there were other families there, the place is large and did not feel at all crowded. You first walk along a paved path and then a boardwalk through the reeds of the wetland. One section is a covered floating boardwalk over the Hula lake. Every once in a while are lookout points to see the landscape and look for animals. We saw many birds, huge catfish, ducks, cranes, water buffalo, and a nutria. It was hot, but there was a breeze that made it bearable. At one point, when on the boardwalk on the lake, it was so windy, that someone suggested I hold on to my hat – hers had just blown away. My son-in-law was counting hats in the water. He saw four. I found the place enchanting. The pictures speak for themselves.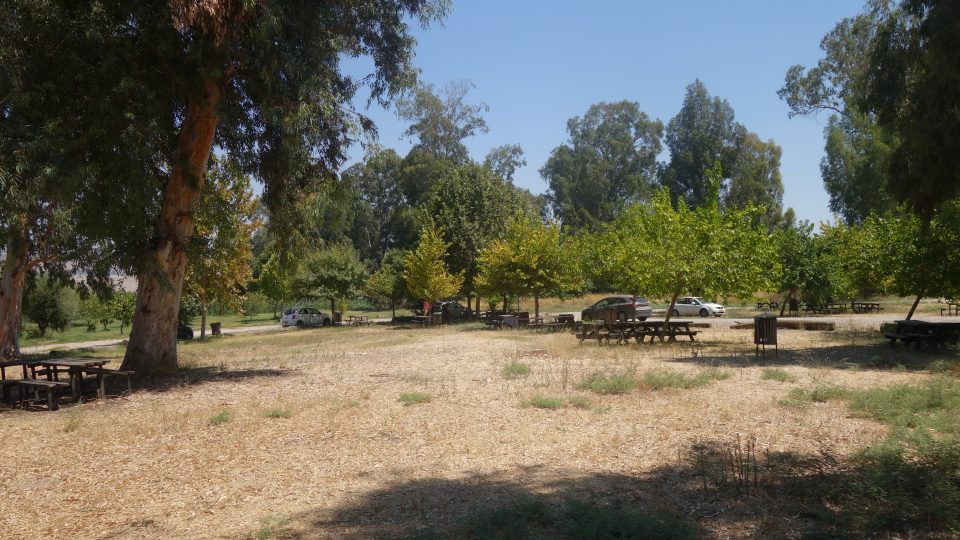 Bye, Bye Nice Place!