JANUARY 23, 2023: It was a perfect winter weather day – warm and sunny and with a clear blue sky. Late last night on the family WhatsApp, we noticed a message from our daughter Tamar asking if anyone wants to go with them for a short Friday morning hike. Although nothing was yet prepared for Shabbat, we decided to join them.
In the morning, we quickly packed the usual day trip necessities – sandwiches, fruit, energy bars and of course, lots of water. A little after 9:00, we were on our way driving to Cyclamen Hill near Tal Shahar. This was about a 40-minute drive southeast – in the direction of Jerusalem, between Latrun and Gedera.
Tal Shahar is a small farming community established in 1948 and named after Henry Morgenthau, Jr. (Morgentau in German and Tal Shahar in Hebrew both mean morning dew). He was the United States Secretary of the Treasury during most of the administration of Franklin D. Roosevelt. Learning about the Holocaust, his Treasury department approved plans to rescue Jewish refugees, but was stopped by the State Department. Morgenthau went so far as to present Roosevelt in January 1944 the Report to the Secretary on the Acquiescence of This Government in the Murder of the Jews. After the war, he devoted the remainder of his life to working with Jewish philanthropies, and also became a financial advisor to Israel. It is very fitting to have a moshav in Israel honor his name.
Tal Shahar was surrounded by green fields and low hills. One of the hills, covered with pine trees, is Cyclamen Hill, and now was the season to see the cyclamen bloom. Cyclamen (rakefet in Hebrew) are native pink and white low-lying plants that bloom in the late winter, early spring in Israel. They like moist, damp soil and shady conditions, and will generally be found in forested areas.
It was a short climb to the top of the hill, and there were plenty of cyclamen to see. The views from the top – different shades of green agricultural fields and the blue waters of a reservoir, with the Jerusalem hills in the background – were stunning.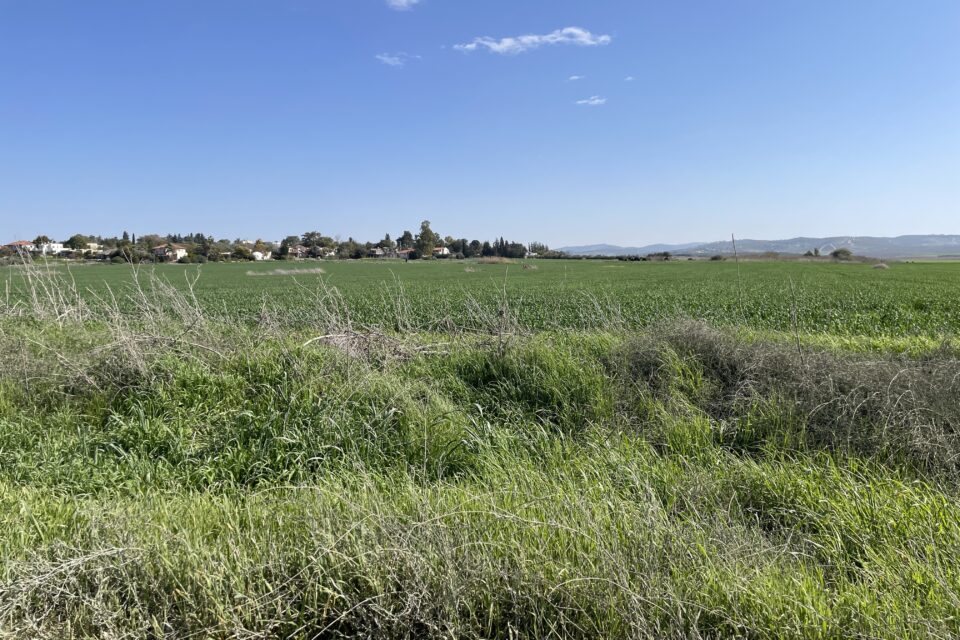 We spent an hour walking around, and then it was time to go to our next destination – a cheese farm in Tal Shahar. The Iza Pziza Dairy is a goat farm that makes goat cheeses. My daughter had been there previously and said the place is highly recommended. They have picnic tables set up outside, overlooking a beautiful view, which would be perfect place to eat our sandwiches. However, while we were filling up gas at the local station, they went ahead and saw that the place was so crowded, that they decided not to stay, and turned around to continue to find a different place for lunch.
We drove on the main road towards Bet Shemesh and turned off at Kibbutz Harel. After a short drive through the kibbutz agricultural storehouses, we came to the House of Arches. This is a large stone structure on a hill overlooking the Latrun valley. Before 1948, this was Bayt Jiz – an Arab agricultural village of about 500 inhabitants. During the independence war, the village was almost completely destroyed. This remaining building became the headquarters of the Harel Brigade, who played a central role in combat operations establishing the passageway to Jerusalem.
An information sign on the building, establishes this as the where on June 30, 1948, the trial and execution of IDF officer, Capt. Meir Tobiansky took place. Tobiansky, who also worked as an engineer at the Jerusalem Electric Company, was accused of providing the British the location of essential installations of the Haganah in Jerusalem. In this house, with an illegally established field court, he was found guilty and executed by firing squad. After a lengthy investigation and a year since his execution, his name was cleared, and he was brought for burial on Mount Herzl.
Today the building remains in disrepair, surrounded by empty fields. It was here that we spread out our picnic blanket.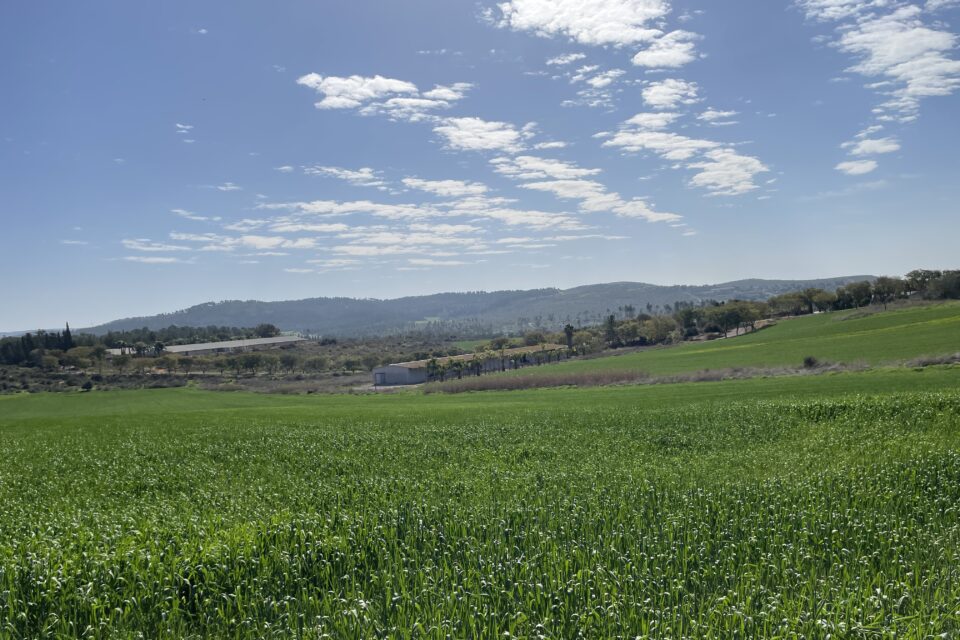 Not having prepared anything for Shabbat, our next stop was Taoz – a moshav (agricultural community) with places to buy some food to take home for Shabbat. Taoz, northwest of Bet Shemesh, was established in 1950. It absorbed many immigrants from Cochin, India, who make up the majority of its residents today. One of those residents, opens an Indian restaurant in her backyard on Fridays. Called HaRikshaw, it is located in a small hut off her driveway, and it was bustling with people. Most come for a sit-down meal, but others, like us, were buying take-away food. The menu varies each week, and today they had a lentil dal, a spinach and tofu dish, and a curry dish with peas. This was going to be our Friday night Shabbat dinner food.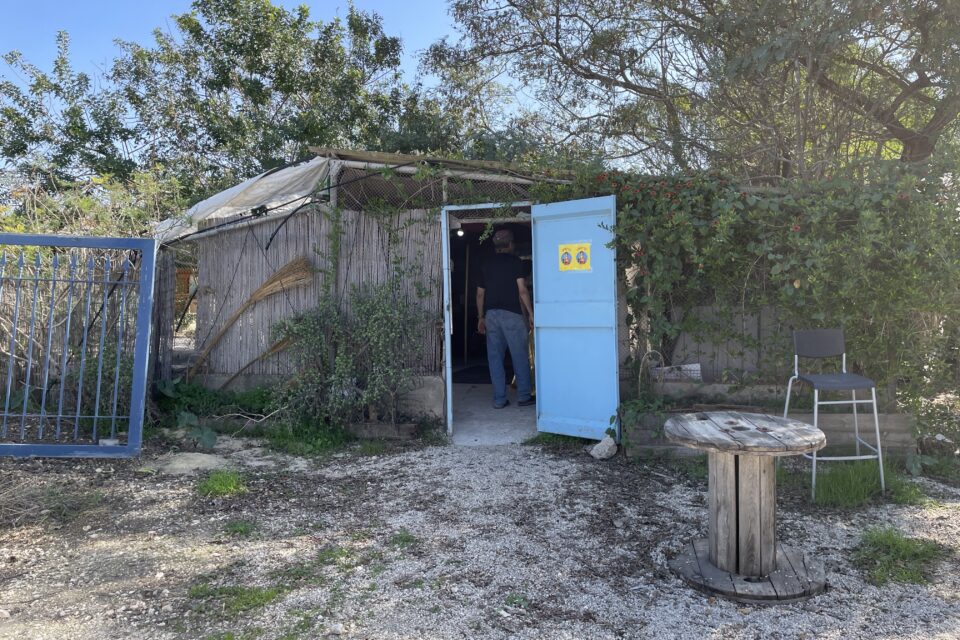 As we were leaving, one of the workers asked us if we had seen the kalaniot. Kalaniot in Hebrew, anemones in English. Anemones are the first of the three red flowers that bloom in the spring in Israel. The three – kalaniot, nurit and pereg – all look alike and are often confused one for the other. In English the three are anemones, red buttercups and poppies.  The first of the three to bloom are the kalaniot. Since it is now late winter, if we saw red flowers, they would most likely be the kalaniot (amemones). The worker told us that we can find some up on the hill behind their yard.
We climbed up the short path and found a few kalaniot towards the top of the hill. These were special because not only were there red ones, but also white, pink and purple.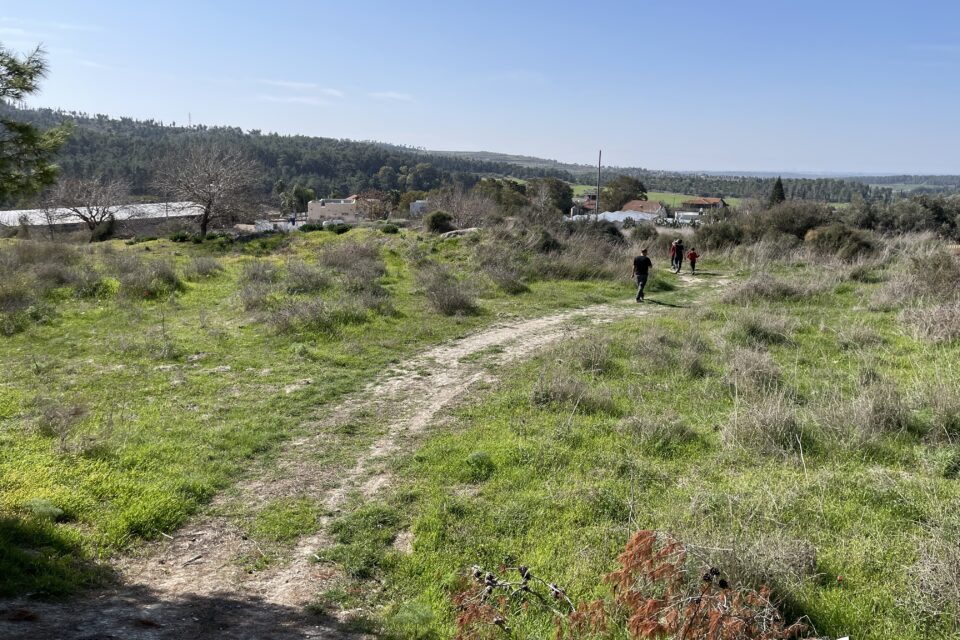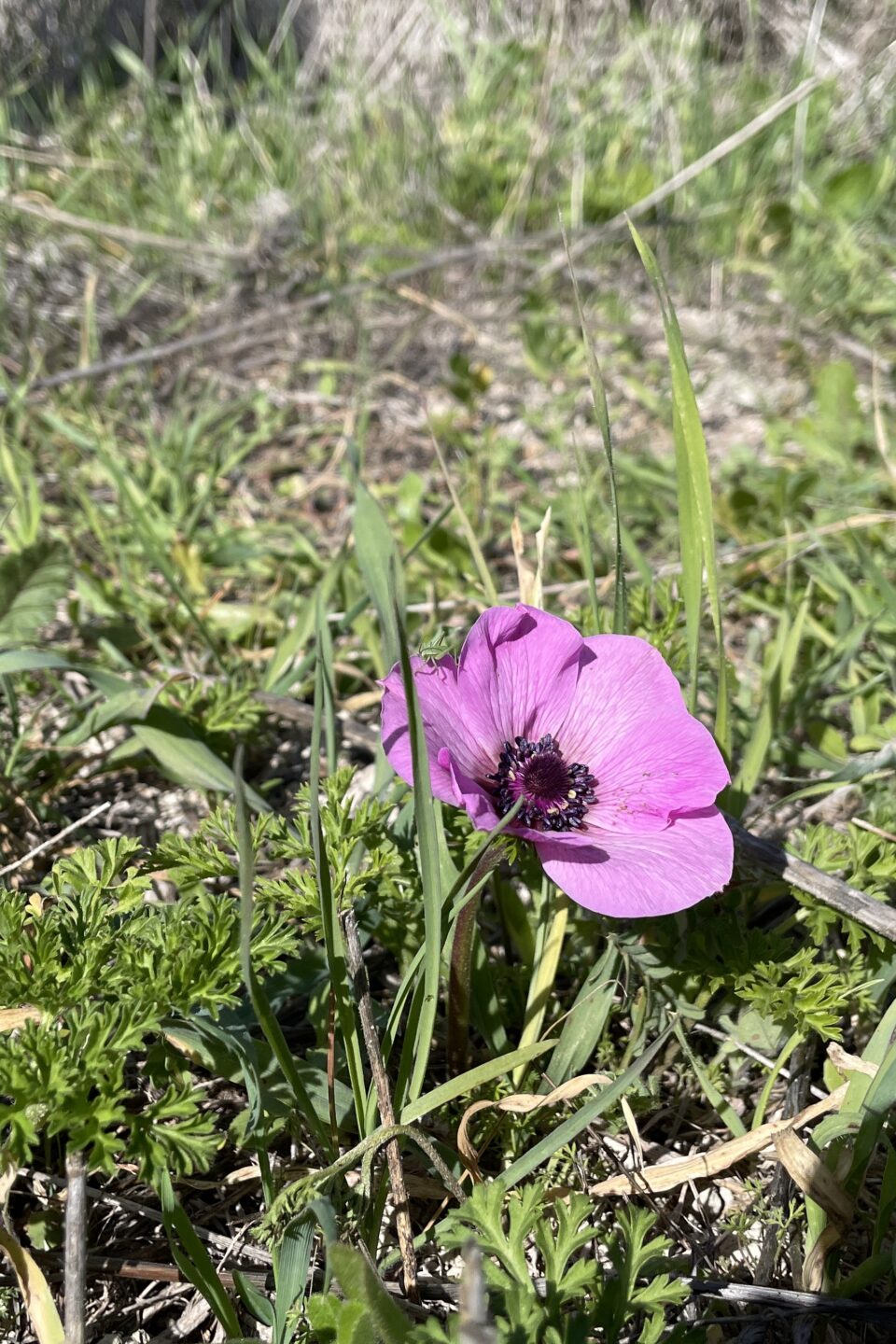 After this short detour, we returned to our car and drove to our final destination, at the other end of Taoz. This was the Ishlehem bakery. Here we could pick up hallah for Shabbat. The bakery makes sourdough breads and handmade pastries from a variety of wholemeal flours including wholewheat, rye and spelt and offers both sweet and savory pastries. Outside, the bakery has a large balcony that was now crowded with people. My favorite were the picnic tables set out at the edge of the mountain. We sat there with our freshly baked treats and enjoyed the view of the surrounding hills. Nothing better than being with kids and grandkids in a beautiful place eating delicious food. A wonderful way to end the day.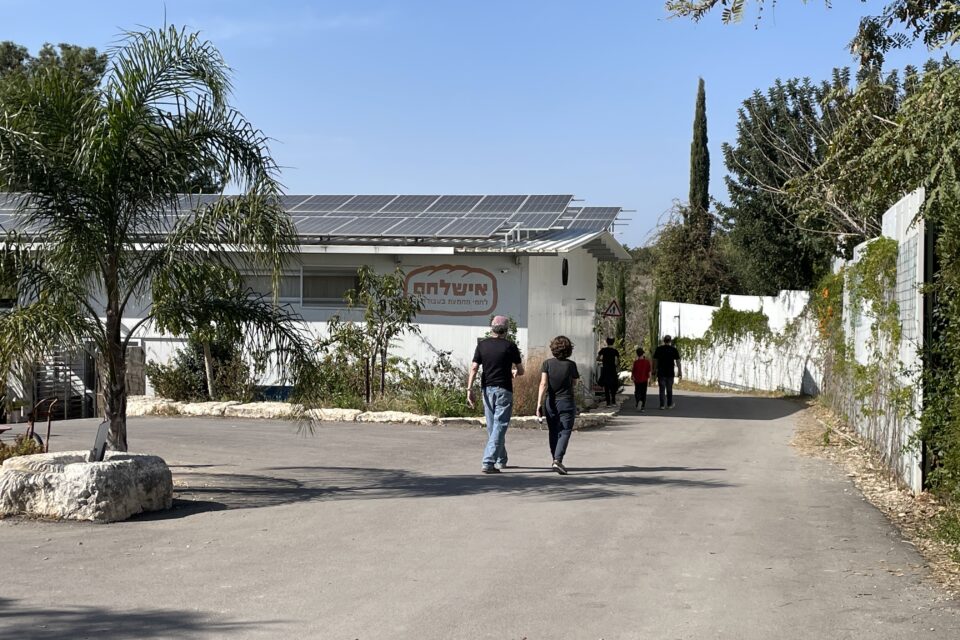 Also note that in the area is another bakery that my daughter recommends. It is in the moshav Gizo, a few minutes down the road from Taoz. Gizo is named after the nearby biblical city of Gizo. Like kibbutz Harel, it too was built on land that was previously Bayt Jiz. It is thought that perhaps the name Jiz also comes from the name Gizo.
The Gizo Bread Boutique Bakery and Confectionary is open only on Friday mornings. It is located in the baker's house, and there is a nice seating area in her backyard. When looking at their website, there is a notice that says "It is now noon on Friday, and everything is sold out. We are closing for the day". This bakery is another place to explore next time we are in the area, but I guess we need to make sure to come early.
So that's it. All in all, we had a wonderful time and it was a lovely way to spend a warm and sunny Friday winter morning.