NOVEMBER 19, 2022 : Last night when Mark went to the synagogue, I insisted he take along a cell phone. The streets and alleyways of Athens are very confusing, and I was afraid he would not find his way back to the apartment. Sure enough, he got so hopelessly lost on the way home, that for the first time in his life, he used a phone on Shabbat in order to navigate.
This morning, he was very confident that he would find his way. I was less so. We made a pact that I would walk to shul with him, and if he found it okay, great, but if not, I would give him his phone to use for the way home. The shul is about 700 meters from our apartment. We started walking, and finally after a long walk, when Mark admitted that he did not know where we were, I looked on my phone, and we were 1.5 kilometers beyond the synagogue in the wrong direction. Oy. Google Maps and I then navigated us to the synagogue.
At the synagogue, we passed security, and as I was saying good-by to Mark, one of the female security guards, asked "Why don't you stay"? I was wearing my usual black pants and shirt and carrying my handbag and replied, "I don't feel appropriately dressed". She scoffed at my remark and said that woman show up in short shorts – what I had on was fine. And that is how I, who never goes to shul, ended up at Shabbat services in Athens.
There were about 50 men and 20 women in attendance. Most were local, but there were also some tourists. One man came to the synagogue with his tallit in a Hatzi Hinam bag, so I knew he was from Israel. In speaking with one of the men, I learned that a group of 11 Egged bus drivers were also visiting. The women, up on the second floor with me, did not follow the Hebrew prayers. They did, however, listen attentively to the sermon the rabbi gave in Greek. They were a mix of young and old, and even included some children. Except for one or two, all the women wore pants and came to the synagogue with handbags or backpacks. I fit right in.
The prayers were read very quickly and with unfamiliar tunes. It was difficult to follow. The rabbi wore a black frock and was accompanied on the bima by two younger men, who I later learned are Israelis living in Athens on shlichut (doing community service).
After prayers, the congregation met in a side room for a sit down kiddush. We joined them for a light meal. It was all very nice and I was glad that I had stayed. After kiddush, we returned to our apartment – and it really was very close if you walk the right way.
We rested for a bit and then went out to explore Athens. All the museums have entrance fees, and we did not plan ahead and get tickets for Shabbat, so instead we decided to go see two viewpoints in the city – Areopagus Hill and the Monument of Philopappos. Both are supposed to offer splendid views of the Acropolis.
Our apartment was very near Monastiraki square. The square was full of people – street artists playing music, vendors selling their products, locals greeting each other, tourists looking around – if this is off- season, I wonder what high season must be like. The roads leading into the square were full of small stores selling everything from tourist souvenirs to vintage knick-knacks.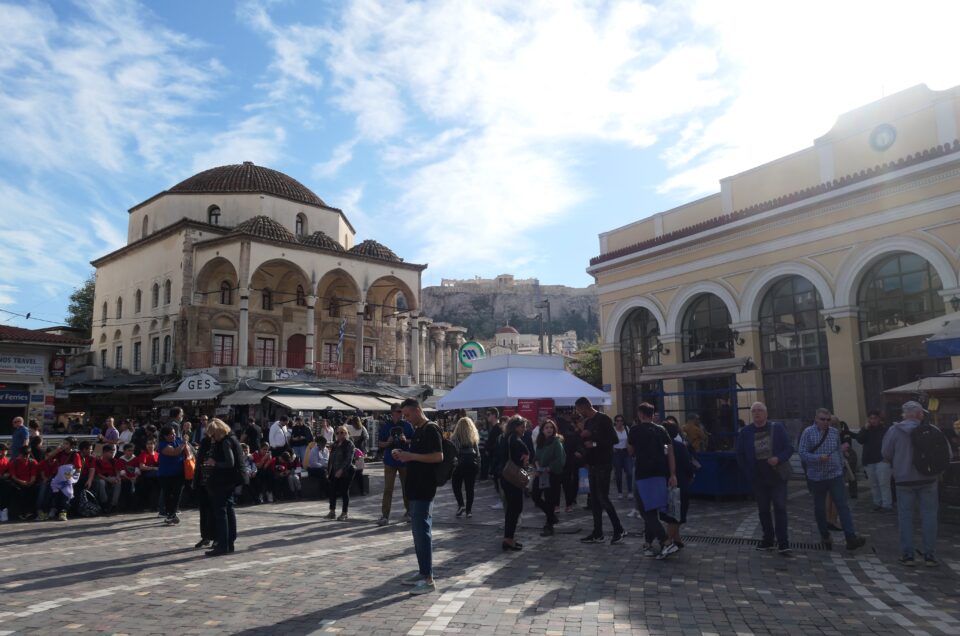 We made our way up to Areopagus Hill. This hill sits not far from the entrance to the Acropolis. In ancient times, this was where the Athenian judicial court tried cases. Some scholars believe it is also the location where the Apostle Paul gave one of his most important speeches.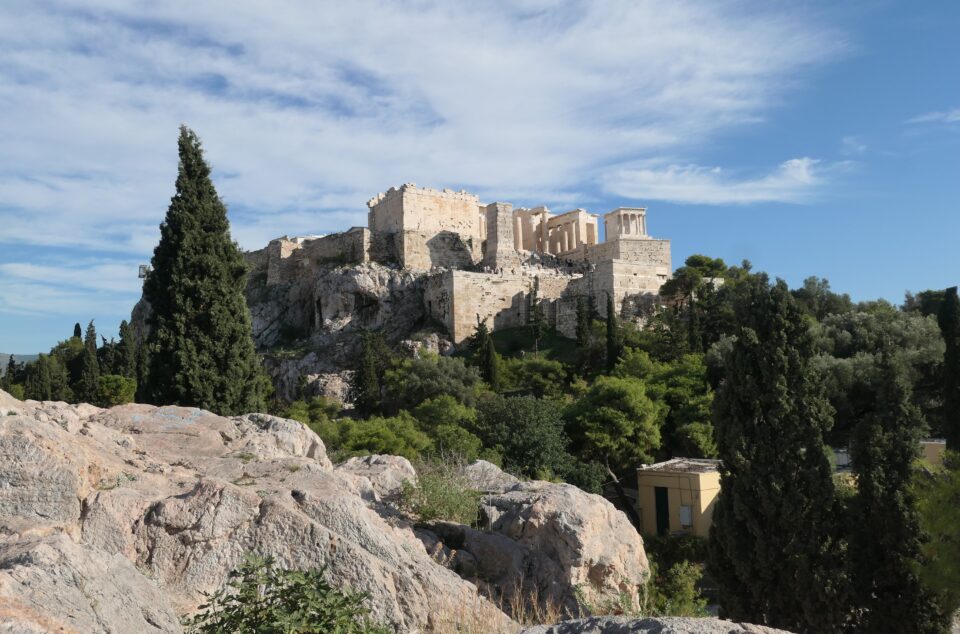 From Areopagus Hill, not only is there a beautiful view of the Acropolis, but also of the Agora. Today we were just looking at the beautiful buildings, not understanding much. Tomorrow when we visit these places, we will learn more details about what we saw today.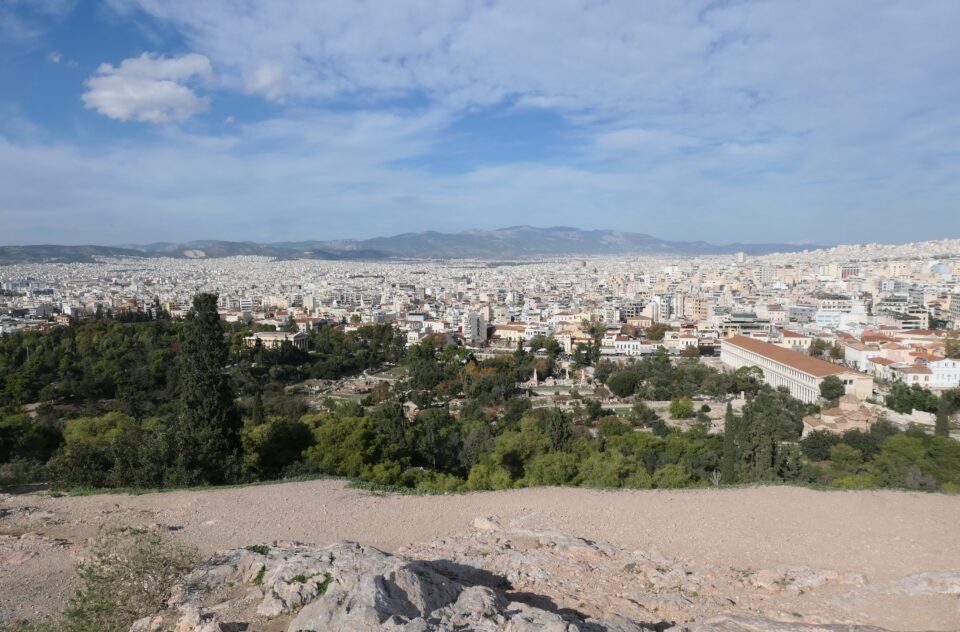 From Areopagus Hill , we walked back down on the other side of the hill of the Acropolis, and then crossed a street, and then climbed up Philopappos Hill, which is a park laced with walking trails. The most popular destination in the park is the Monument of Philopappos.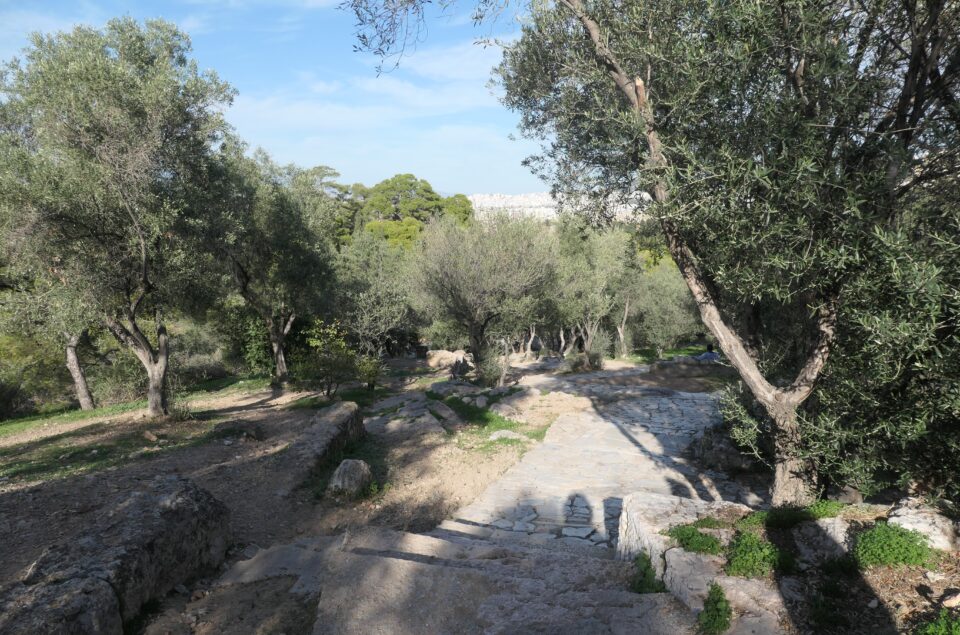 Philopappos, a prince from upper Syria and a benefactor of Athens, died in 116 CE. To honor his memory, his sister and the citizens of Athens erected a marble tomb on the hill near the Acropolis.
The remains of this ancient monument are huge (12 meters in height), and from their vantage point on top of the hill, we had not only a great view of the Acropolis, but also a 360-degree view of all of Athens and of the sea.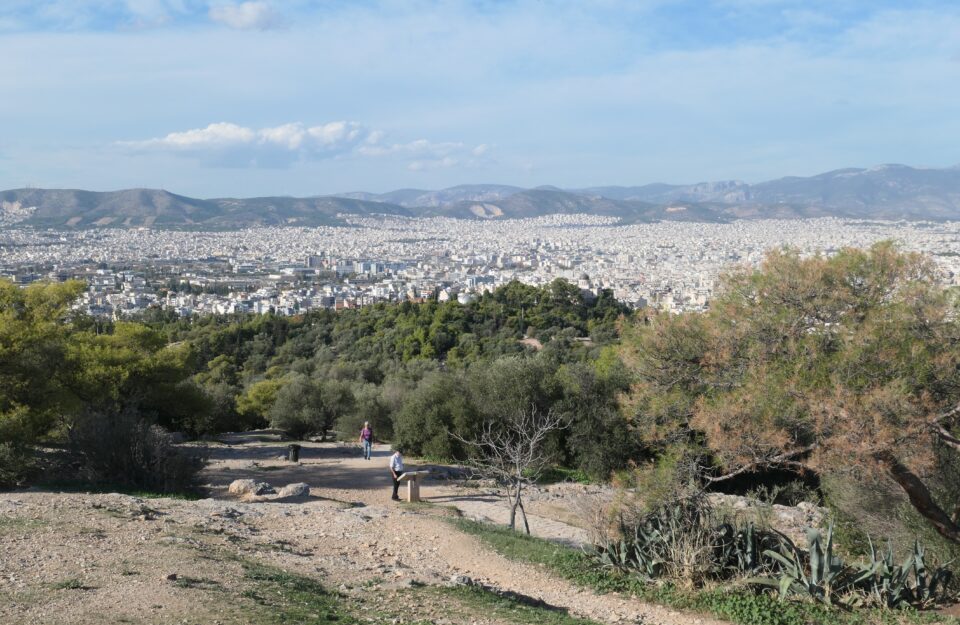 On the way to the monument, we had passed a sign to the prison of Socrates. We went there to investigate. Socrates, for those like me who remember the name but don't remember exactly who he was, was a Greek philosopher from Athens who is credited as the founder of Western philosophy. In 399 BC, at the age of 71, Socrates went on trial for corrupting the minds of the youth of Athens. He spent his last days in prison. His followers offered him a route to escape, but he refused. Instead, he died in prison after drinking poison hemlock.
At the bottom of Philopappos Hill, are some caves that lead to underground chambers. These theoretically might have been the prison where Socrates was kept.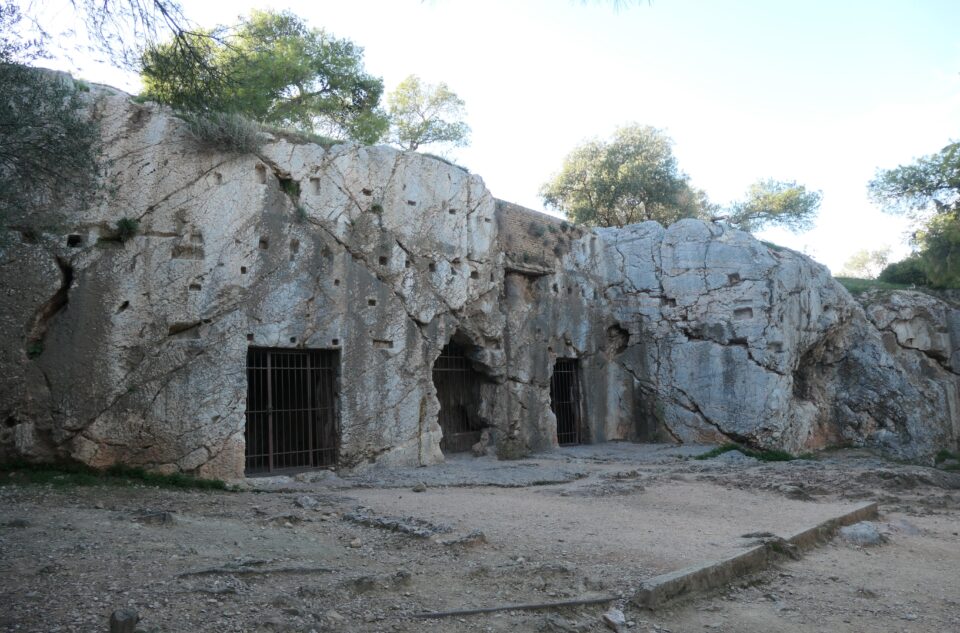 We then walked back to our apartment through the city streets passing many charming spots. Many alleyways were filled with restaurants and interesting stores.
Later in the evening, when Shabbat was over, we went out again. There seems to be two Athens. One in the morning, when the streets are mostly empty, quiet and calm and one in the evening, when the streets are full and vibrant. The center of Athens feels like one big restaurant, where one restaurant ends, the next begins. All the restaurants were overflowing with customers.
The only restaurant not overflowing, was exactly where we were headed – a vegan burger place. We ate a small snack and returned to our apartment.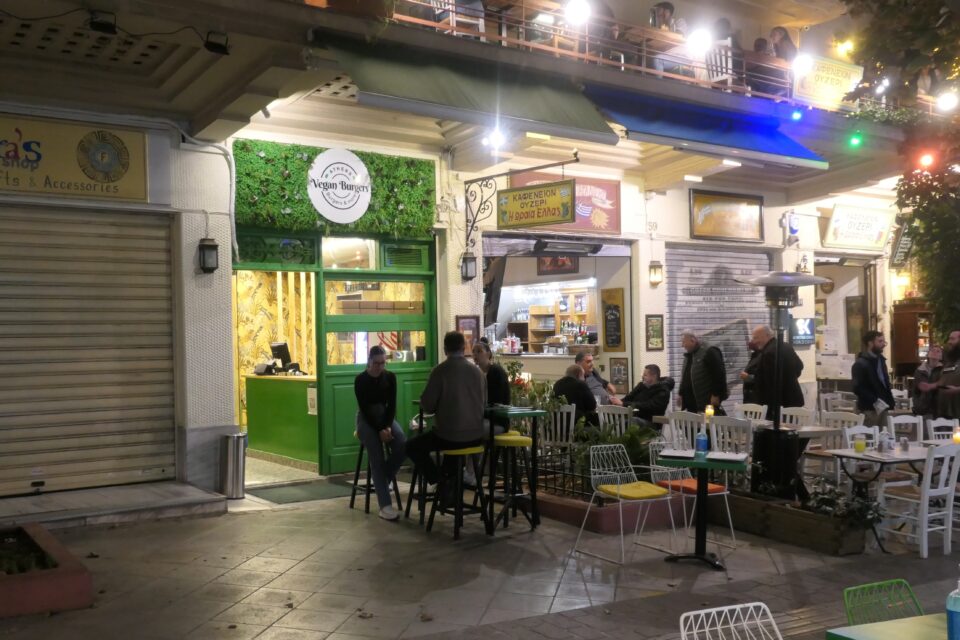 In our building, on the ground floor, were three small businesses. One was a thermos and stainless-steel tray store that opened during the day. The other two were a bar and a restaurant that opened in the evenings. The kitchen and serving bar were indoors while the tables for customers were placed on the street outdoors, exactly beneath our bedroom window. Last night, we heard the sound of many conversations, but it was not disturbing. Tonight, the bar played very loud music till the early morning hours. It was not a restful night. Tomorrow, we continue to explore.