DECEMBER 8, 2020 : In looking at a list of public art in Israel in the Wikipeida, one name that appears often is Menashe Kadishman. This name is familiar to me as the artist of sheep paintings, but not as a sculptor.  Kadishman, if I remember correctly, was also a friend of Avraham Binder, one of his contemporaries and a relative by marriage whose paintings decorate the walls of my house. When I attended the funeral of Binder, Kadishman was there.
Looking at the list, I was intrigued by the number of public sculptures that Kadishman has all over Israel, including many in the Tel Aviv area, and thought that could be an interesting way to spend the day – searching for works by Kadishman.
First, I did my homework. There are many lists of public works in Israel, and each list offered something new. There are some famous Kadishman works that appear in all the lists, but then each list seemed to offer some other smaller works not included in the other listings. I put together all the lists, pinned them onto a google map and made a route to follow. On my route there were 10 stops in Tel Aviv, and 8 more in the greater Tel Aviv area. Too much for one day, but we would give it a go.
For some of the sculptures, we had an exact address. For others, we had a general location. It was going to be like the Amazing Race to find them. We were not sure what would take longer – finding the sculpture or finding a parking space in Tel Aviv. Our oldest grandson, Lavi joined us for the hunt, and Michal, my oldest daughter, for half the day. That made it even nicer.
Before describing what we found – some background on Menashe Kadishman. He is a sabre, born in 1932 in pre-Israel Palestine. He worked for several years as a shepherd, which greatly influenced his art. He has won many prizes, including the Israel Prize. His public artworks are not only in Israel but appear all over the world including the United States, Germany, Costa Rica and Japan. Over his lifetime he created 1000's of sculptures. He passed away in 2015 and is buried in the Kiryat Shaul cemetery in Tel Aviv.
We began the day at Ziv Towers in Ramat HaChayal. I had worked in that building for 11 years at RAD, but did not remember noticing a Kadishman statue. We found it on the side of the building –a work called The Horse.
Once we saw The Horse, we had a better idea of what to look for – large, metal, rust colored works.
The next stop was Tel Aviv University. I also worked at the university for a year a long time ago, which prompted Lavi to ask if today is about seeing the places I have worked at, or about chasing statues. Clever kid. The university is huge, and full of public works of art. The landscaping is beautiful. Luckily, Michal, who was meeting us there, stumbled upon the Kadishman sculptures as she entered the university, sent us her location, and after a 10-minute walk, we reached the main university quad where two Kadisman sculputure are located.
The first one we saw is called Suspense. Kadishman often liked to create gravity defying works.
The other is The Sacrifice of Isaac.
From the University, we continued to the center of Tel Aviv – Kikar Rabin. On the way, we drove by the Rabin Center. On the lawn is a forest of cut out trees created by Kadisman.
One of the lists mentioned that on the façade of Tel Aviv city hall, there is a portrait of the actor Shimon Finkel created by Kadishman. After circling the building we do not find anything like this – maybe in the recent renovation of city hall this was moved elsewhere.
It was now lunch time, and we enjoyed our sandwiches in the sun in Kikar Rabin.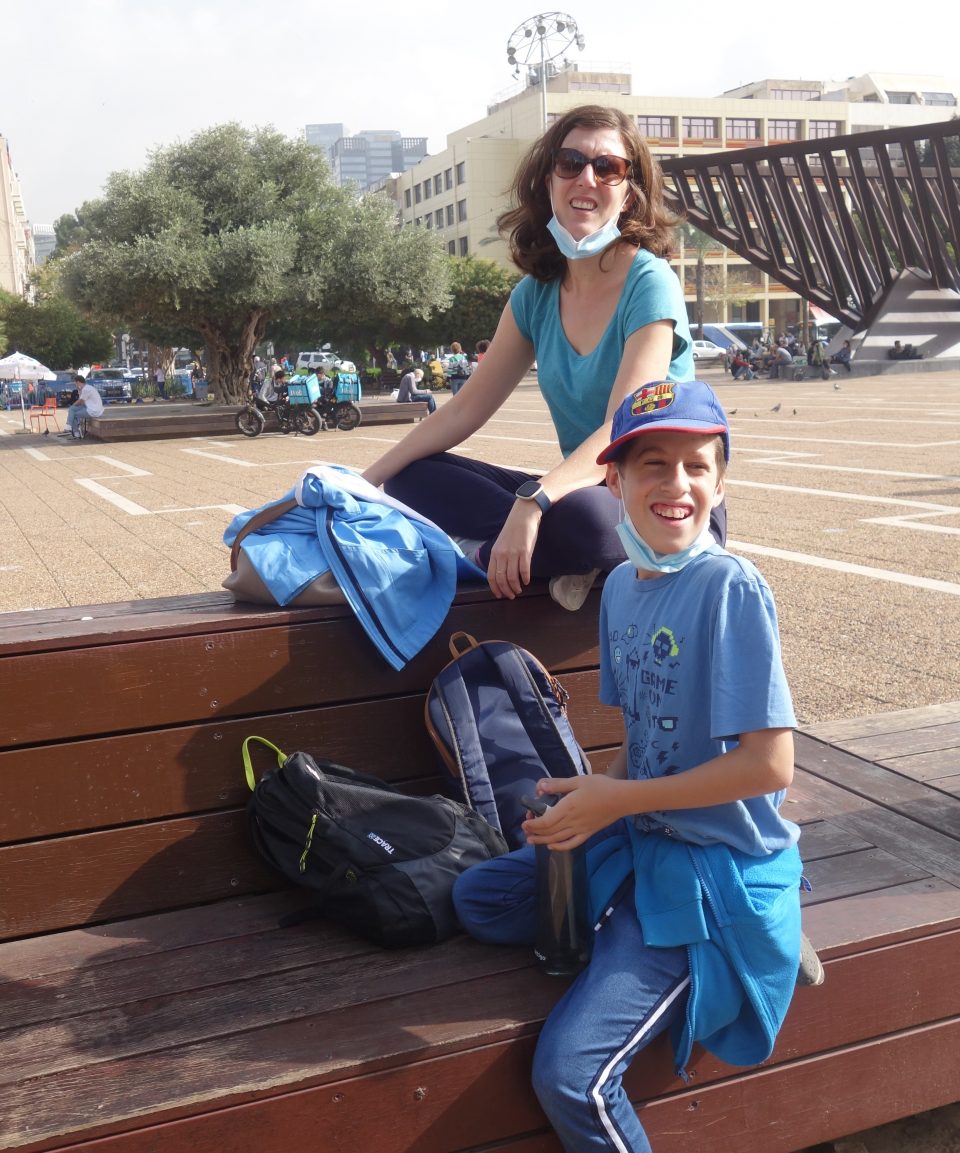 From there we walked down Frishman avenue and found The Kissing Birds.
We were not too far from Dizengoff Circle, which was recently re-done and we had not seen it yet. We went there and found hundreds of people sitting in and around the fountain. Restaurants in the area are only open for take-away, the circle seemed to be the place to sit and eat.
We then walked up Dizengoff until Habima Theatre . In front of the theatre plaza, is a huge Kadishman piece called Uprise – another gravity defying sculpture.
We returned to our car at Kikar Rabin and drove to the Tel Aviv Museum. My list had four works by Kadishman at the museum, but we only found three of the four.
In the main plaza, is another Sacrifice of Isaac.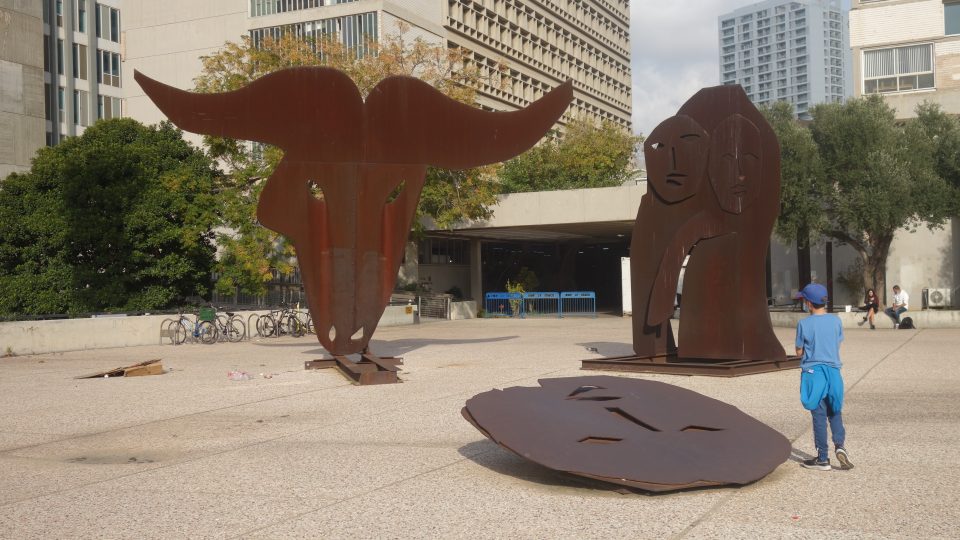 There is also Big Suspense.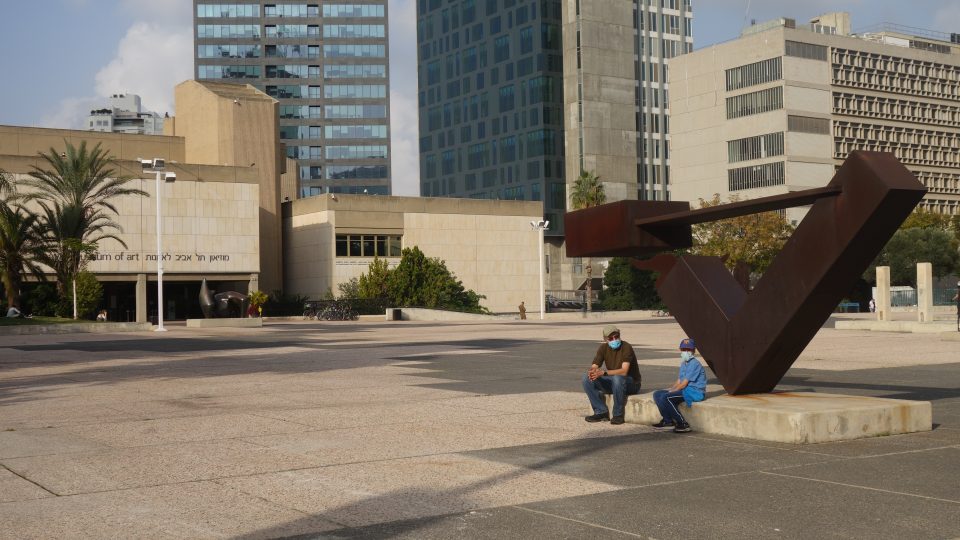 These first two – the Sacrifice of Isaac and Big Suspense – were similar to what we had seen at Tel Aviv University. Looking as Kadisman's work, there are several recurring themes. Variations of almost every statue, can be found in many locations. For example, Wiki Commons has photographs of variations of The Kissing Birds at 11 different international locations.
The third sculpture we found near the Tel Aviv Museum, called Scream, was located in a delightful garden below the main plaza.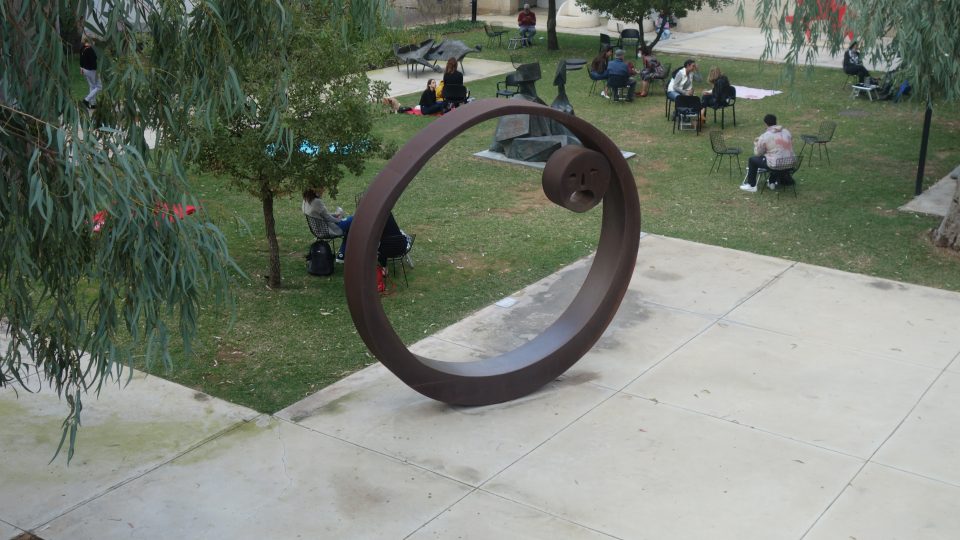 From the museum, we walked to a passageway at Dobnov Street. Here was Kaddishman's Prometheus.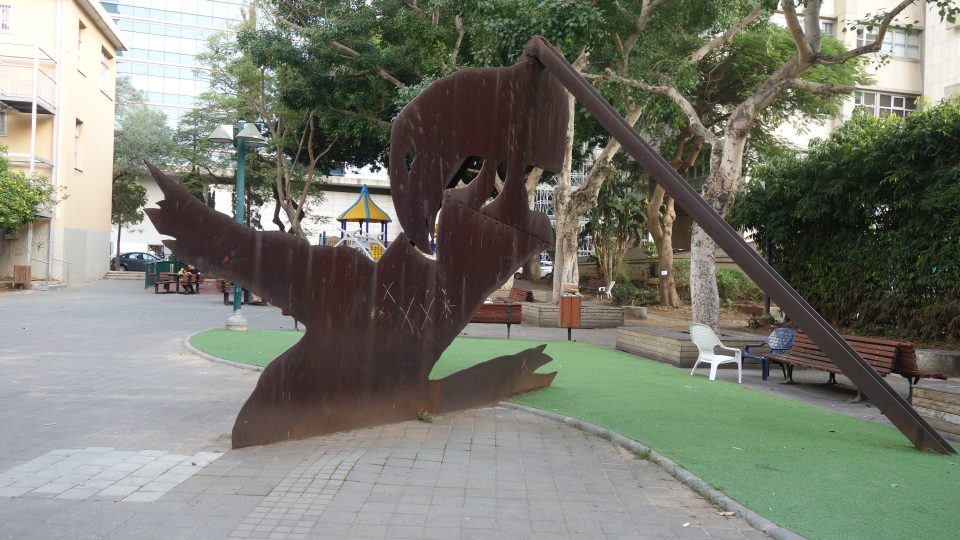 We had walked over 20,000 steps in the city and we were ready to call it a day. Maybe one day, there will be a Part 2, where we continue to find the rest of the statues on the list.
If you want to learn more about Kadishman, there is a documentary called "The Blue Lamb" from 2005. Click here to see an excerpt.
Kadishman also has his own website – new.kadishman.com. Here his work is put into categories, and you can then see the re-occurring themes.
All in all, a fun day. A bit educational as well.